Bombay Sapphire Gin presents a collaboration with contemporary Chicago artist Hebru Brantley to launch its first-ever artist-designed bottle.
Drawing inspiration from his early passion for street art, Brantley's bottle design features distinct Afro-Futuristic motifs as an extension of his narrative-driven work.
Recognized as one of the preeminent Black artists at the forefront of culture, Brantley is internationally lauded for his public works and solo shows over the past decade, and has been sought after by a roster of A-list clientele including Jay-Z, Lenny Kravitz, George Lucas, LeBron James and more.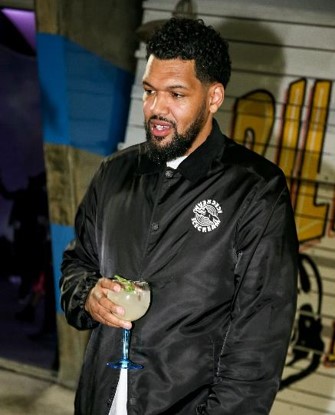 BOMBAY SAPPHIRE Gin is made with a unique combination of 10 hand-selected exotic botanicals from around the world. BOMBAY SAPPHIRE has an extraordinary smoothness and perfectly balanced taste. Inspiring the imagination of bartenders the world over, the aromatic flavors and crisp yet delicate finish create versatility unmatched by other gins. It can be savored in inventive long drinks or perfectly balanced martinis; in classic or contemporary cocktails.
Bottle size: 750ml
BE BRILLIANT AND INSPIRED. DRINK RESPONSIBLY!©2016. BOMBAY SAPPHIRE AND THEIR TRADE DRESSES ARE TRADEMARKS. IMPORTED BY THE BOMBAY SPIRITS COMPANY U.S.A., CORAL GABLES, FL. BOMBAY SAPPHIRE GIN – 47% ALC. BY VOL.


Suggested Serve
BOMBAY Lemonade
1 Part BOMBAY SAPPHIRE
3 Parts Lemonade
Garnish with Lemon Wheel