BOMBAY SAPPHIRE Gin is proud to present a limited-edition gift pack designed by Brooklyn-based graphic designer and visual artist, Shavanté Royster.
BOMBAY SAPPHIRE called on artists across North America to design a unique holiday gift pack to be produced and sold across the U.S. as tribute to the cultural phenomenon of street art. The winning design from Royster was selected from among 99 submissions by emerging artists. The expansive search for an undiscovered voice embodies the brand's ongoing mission to inspire and awaken creative potential within everyone.
This unconventional limited edition features a spray can outfitted to house the iconic BOMBAY SAPPHIRE bottle.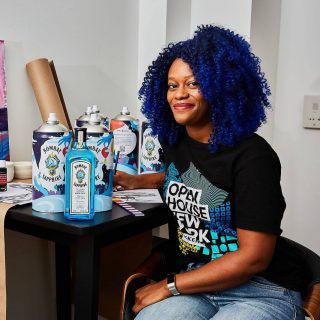 BOMBAY SAPPHIRE is proud to unveil its inaugural holiday window display, celebrating the new artistic guard and New York City's creative comeback. Though the holiday windows are inspired by the traditional 5th Avenue holiday window displays, these have a deeper purpose: to revitalize downtown Manhattan which was stripped of many anchor businesses and to provide a platform for emerging creatives. This avant-garde Holiday Storefront Series took place in SoHo this December, in collaboration with emerging artist Shavante Royster, the disruptive fashion designer Romeo Hunte, and New York City dancer Nicole Von Arx.
Over the past year and a half, the pandemic has decimated the livelihood of creatives, small businesses, and retail in New York and beyond. To uplift the artistic community and bring a diverse, vibrant energy to the traditional holiday displays, BOMBAY SAPPHIRE commissioned these artistic visionaries from diverse fields to transform otherwise empty storefronts into veritable 'windows of art'.
The backdrop of each window features a winter dreamscape inspired by the gift pack design by Shavanté Royster. The Holiday Window Series lit up SoHo during December to mimic the holiday magic of 5th Avenue through the eyes of Shavanté and Romeo, featuring live models clad in Romeo's winter apparel against Shavante's contemporary picturesque snowy backdrop, along with performances by New York City dancers and local bar-hopping experiences. Romeo Hunte's dedicated window featured people clad in two bespoke designs that he created exclusively for the space, depicting them getting ready for a holiday show over cocktails. Featuring Romeo's playful sensibility, the garments were inspired by Shavante's depiction with the color of the jumpsuit playing off the yellow snowboards, sun and hot air balloons and the billows of the garment responding to the ski slopes. His New York edge is showcased in the jacket and pants look, mashing up tailored, preppy and street styles that tie into Shavante's BOMBAY SAPPHIRE-inspired blue colorscape.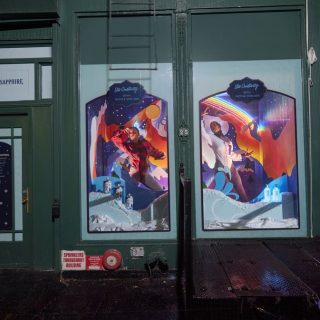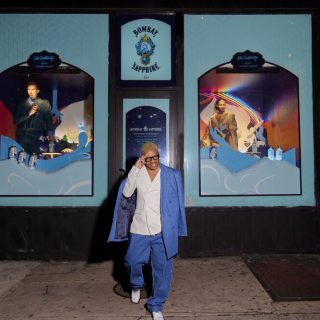 Royster developed a passion for art very early in life. Her body of work consists of digital illustration, painting, and mixed media. Raised in a military household, she spent her developing years travelling around the world. Her experiences inspired her creativity and travel has become a common theme in her artwork. She explores ideas of what it means to have a home and a place to belong. She expresses both the challenges and the excitement of being uprooted through her expressive use of shapes and rich, vivid colours.
"I was inspired by the theme Stir Creativity. It made me think about all the different ways people can be creative. Whether you're mixing a Bombay Sapphire cocktail or mixing paint, it requires a sense of artistry and ingenuity to bring the contents to life. With drinks and with art we create with our hands and that aspect of creation became the centerpiece of my artwork."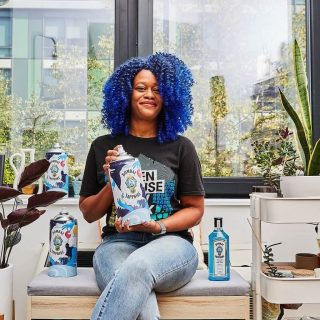 BOMBAY SAPPHIRE Gin is made with a unique combination of 10 all natural, 100% sustainably sourced botanicals from around the world. BOMBAY SAPPHIRE is perfectly balanced for a bright, refreshing taste, making it the ideal canvas for cocktail creativity.
Bottle size: 750ml
BE BRILLIANT AND INSPIRED. DRINK RESPONSIBLY!©2016. BOMBAY SAPPHIRE AND THEIR TRADE DRESSES ARE TRADEMARKS. IMPORTED BY THE BOMBAY SPIRITS COMPANY U.S.A., CORAL GABLES, FL. BOMBAY SAPPHIRE GIN – 47% ALC. BY VOL.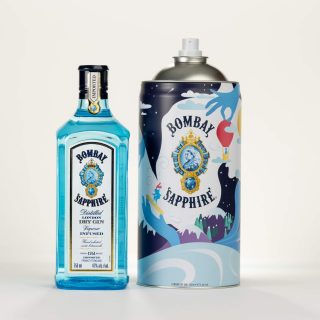 SUGGESTED SERVE
Bombay & Tonic Cranberry Twist
1.5 oz BOMBAY SAPPHIRE Gin
2 oz Premium Tonic Water
2 oz Cranberry Juice Lime Wedge
Garnish with a lime wedge
Optional twist: Top with 2 dashes of Scrappy's Orleans Bitters