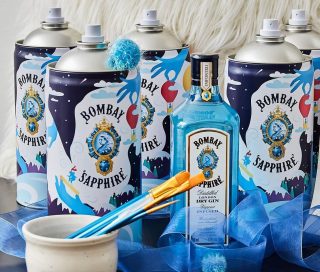 Limited Edition
Gift Pack
BOMBAY SAPPHIRE Gin is proud to present a limited-edition gift pack designed by Brooklyn-based graphic designer and visual artist, Shavanté Royester.
BOMBAY SAPPHIRE called on artists across North America to design a unique holiday gift pack to be produced and sold across the U.S. as tribute to the cultural phenomenon of street art. The winning design from Royester was selected from among 99 submissions by emerging artists. The expansive search for an undiscovered voice embodies the brand's ongoing mission to inspire and awaken creative potential within everyone.
This unconventional limited edition features a spray can outfitted to house the iconic BOMBAY SAPPHIRE bottle.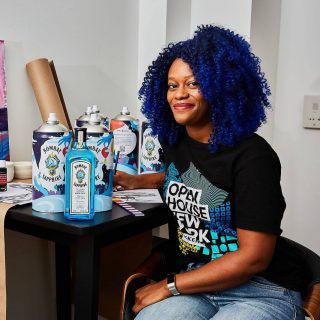 Royester developed a passion for art very early in life. Her body of work consists of digital illustration, painting, and mixed media. Raised in a military household, she spent her developing years travelling around the world. Her experiences inspired her creativity and travel has become a common theme in her artwork. She explores ideas of what it means to have a home and a place to belong. She expresses both the challenges and the excitement of being uprooted through her expressive use of shapes and rich, vivid colours.
"I was inspired by the theme Stir Creativity. It made me think about all the different ways people can be creative. Whether you're mixing a Bombay Sapphire cocktail or mixing paint, it requires a sense of artistry and ingenuity to bring the contents to life. With drinks and with art we create with our hands and that aspect of creation became the centerpiece of my artwork."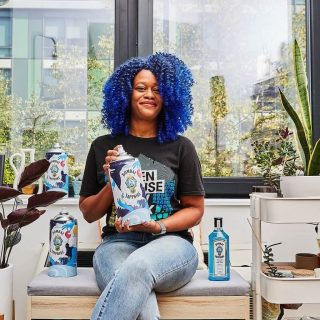 BOMBAY SAPPHIRE Gin is made with a unique combination of 10 all natural, 100% sustainably sourced botanicals from around the world. BOMBAY SAPPHIRE is perfectly balanced for a bright, refreshing taste, making it the ideal canvas for cocktail creativity.
Bottle size: 750ml
BE BRILLIANT AND INSPIRED. DRINK RESPONSIBLY!©2016. BOMBAY SAPPHIRE AND THEIR TRADE DRESSES ARE TRADEMARKS. IMPORTED BY THE BOMBAY SPIRITS COMPANY U.S.A., CORAL GABLES, FL. BOMBAY SAPPHIRE GIN – 47% ALC. BY VOL.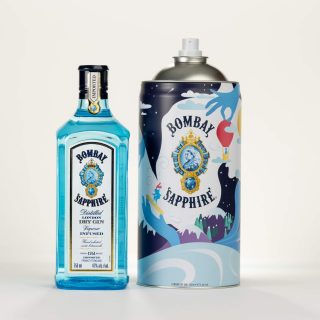 SUGGESTED SERVE
Bombay & Tonic Cranberry Twist
1.5 oz BOMBAY SAPPHIRE Gin
2 oz Premium Tonic Water
2 oz Cranberry Juice Lime Wedge
Garnish with a lime wedge
Optional twist: Top with 2 dashes of Scrappy's Orleans Bitters