Bombay Sapphire Distillery Have Achieved The Wildlife Habitat Council Certification
We're celebrating as our beautiful gin distillery achieves Wildlife Habitat Council certification which recognizes our work in supporting local wildlife and biodiversity.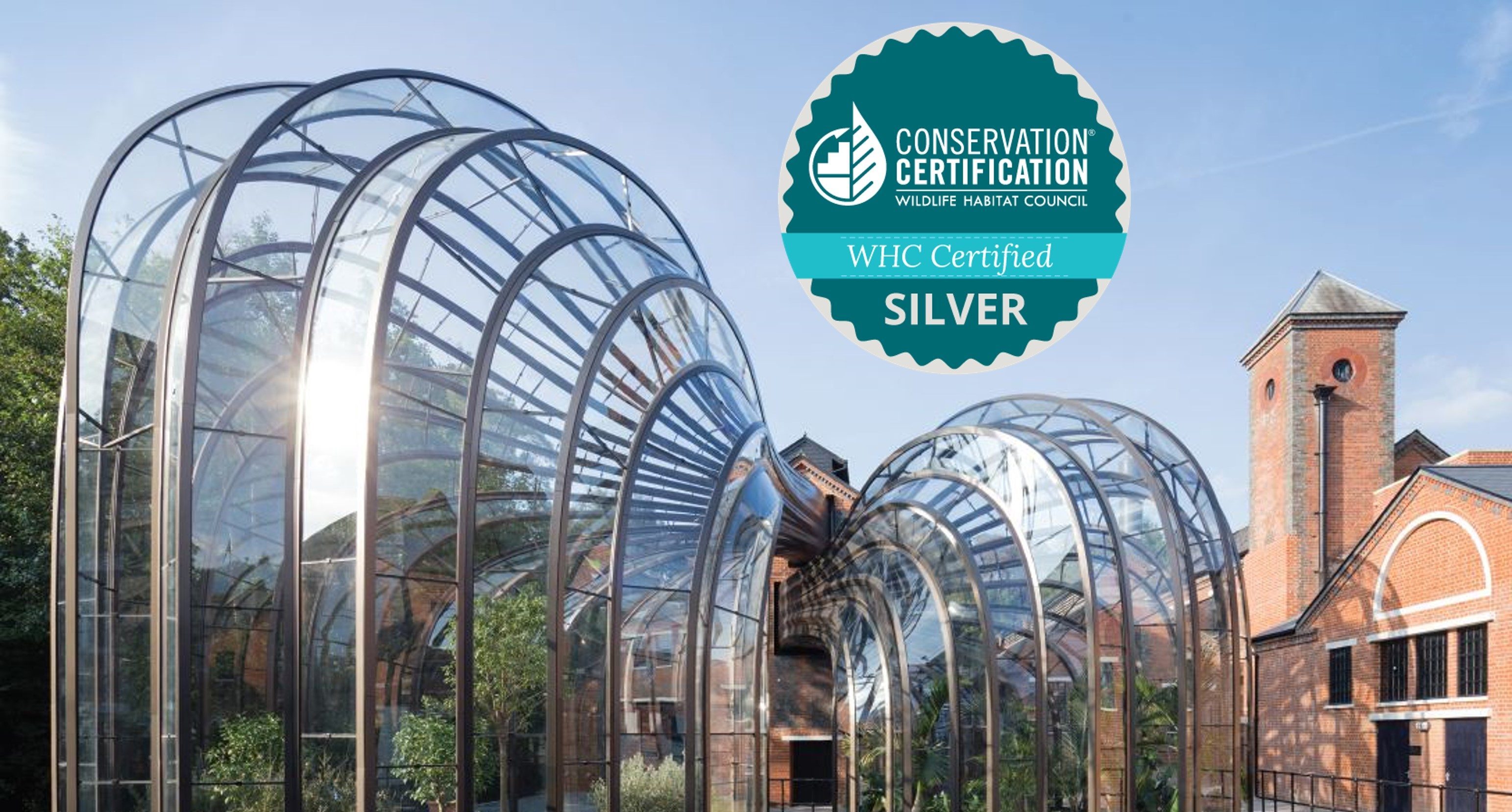 Posted
Sep 2023
Type
Awards
We're delighted to announce that we have achieved the Wildlife Habitat Council (WHC) certification for our work and efforts to support the local wildlife and biodiversity here at Bombay Sapphire Distillery.
We have become the first spirits production site in the UK to hold the certification, and as of today the only Certified Silver program in the UK, thanks to our focus on protecting local bat populations and then section of the beautiful River Test that runs through the distillery.
Our conservation work includes the installation of 26 bat and hibernation boxes, bat access tiles and numerous cavities and gaps to the walls of the distillery. Meanwhile, to increase the abundance of insects in the area – a food source for bats – bee nesting boxes have been installed and wildflowers planted. Bombay Sapphire Distillery is also used to train early career ecologists on using bat detecting and recording equipment, helping to educate tomorrow's experts in the field.
On the banks of the River Test – an area which has held 'Site of Special Scientific Interest' status since 1991 – more wildflowers have been planted and fish and eel passes have also been constructed to allow for greater movement of river life.
In addition, our distillery is part of a nationwide program called the Anglers' Riverfly Monitoring Initiative, which engages a local community of volunteers from the Watercress and Winterbournes Landscape Partnership Scheme to monitor the river's invertebrates. This study provides invaluable insight into the health of the river, helping to track and monitor any changes over time.
"The home of Bombay Sapphire is incredibly special – not only for the beautiful gin we produce there, but for its surrounding Hampshire countryside and nature," says Rodolfo Nervi, VP, Global Safety, Quality & Sustainability, Bacardi. "We put protecting that environment front and centre when we designed and built the distillery nearly 10 years ago, and we continue that work to this day, prioritizing doing the right thing to have a positive impact on the planet for future generations."
Our commitment to sustainability extends to the sourcing of our ten botanicals, all of which come from 100% sustainably certified suppliers. We have a rich history of pioneering sustainability, when Bombay Sapphire Distillery opened in 2014, its design was rated 'outstanding' by BREEAM – the most recognized environmental assessment for buildings.
"Companies achieving WHC Conservation Certification are environmental leaders, voluntarily managing their lands to support sustainable ecosystems and the communities that surround them," says Margaret O'Gorman, President, Wildlife Habitat Council. "We applaud the BOMBAY SAPPHIRE distillery for its dedication to restoring local waterways, providing shelter for important bat populations and removing invasive species. These incredible efforts support the biodiversity of the ecosystems surrounding this site while also benefitting the greater community."
To find out more about our ESG (Environmental, Social & Governance) commitments, including our alignment with the United Nations Sustainable Development Goals, please visit www.bacardilimited.com/good-spirited.
If you're interested in learning more about Bombay Sapphire and the wonderful Distillery we get to call our home, then why not pay us a visit and book one of our experiences?