Bombay Sapphire Gin presents a collaboration with contemporary Los Angeles based artist Steven Harrington to launch its second iteration of the popular artist-designed bottle series.
Steven Harrington is best known for his bright, iconic style that encourages a two-way conversation between the artist and viewer. There's a timeless quality to his playful yet contemplative work, which is inspired by California's mystique, vastly diverse landscape, and thriving mix of cultures.
Harrington has collaborated with many iconic brands as well as being a pioneer of sustainability causes including earth day and has also been selected as one of the selected artists for the 2028 Olympics in Los Angeles. He is collected by many celebrities including DJ Khaled and J Balvin to name a couple.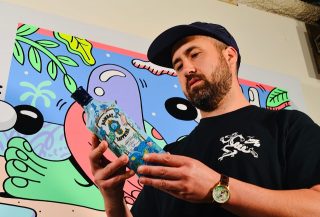 BOMBAY SAPPHIRE Gin is made with a unique combination of 10 hand-selected exotic botanicals from around the world. BOMBAY SAPPHIRE has an extraordinary smoothness and perfectly balanced taste. Inspiring the imagination of bartenders the world over, the aromatic flavors and crisp yet delicate finish create versatility unmatched by other gins. It can be savored in inventive long drinks or perfectly balanced martinis; in classic or contemporary cocktails.
Bottle size: 750ml
BE BRILLIANT AND INSPIRED. DRINK RESPONSIBLY!©2016. BOMBAY SAPPHIRE AND THEIR TRADE DRESSES ARE TRADEMARKS. IMPORTED BY THE BOMBAY SPIRITS COMPANY U.S.A., CORAL GABLES, FL. BOMBAY SAPPHIRE GIN – 47% ALC. BY VOL.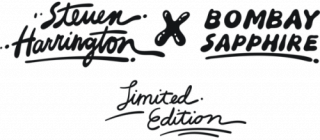 Suggested Serve
BOMBAY & Tonic splash of lemonade
1 Part BOMBAY SAPPHIRE
3 Parts premium tonic
Splash of lemonade
Garnish with Lemon Wheel