Buy the Special Edition Bottle Online
This product can be shipped to:
Cart
Jean-Michel Basquiat is a cultural icon and prolific artist who became a defining force in the New York City art scene in the 1980s. He has created a global legacy through his iconic style and the social commentary behind his work which has greatly influenced modern and contemporary art. Drawing inspiration from Jean Michel Basquiat's time in Los Angeles, the Special Edition bottle features his Untitled (L.A Painting), a masterpiece influenced by the surrounding remote environment of Venice Beach where Basquiat found security and solitude away from the distractions in New York. Exhibited in Basquiat's second ever show, the piece features many of the key motifs that are associated with his work: the crown, the bird, the coin and the skull which are all beautifully collaged over soft hues of blue. Through the social commentary behind his graffiti inspired artwork, Jean Michel created a global legacy and has greatly influenced modern and contemporary art.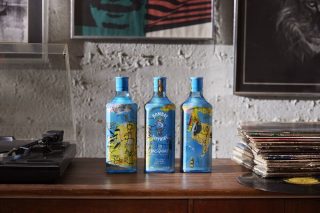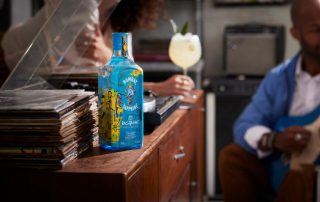 A patron of the arts, Bombay Sapphire has long supported the work of artists, ever since the brand's inception. With a collective mission to inspire and enable creative self-expression in us all, Bombay and the Basquiat Estate bring to life this Special Edition bottle which shines a light on his fearless creativity and meaningful artist expression and transcends generations. The Special Edition bottle features the never-before licensed, Untitled (L.A. Painting) providing all with an opportunity to add a gem to their art collection.
BOMBAY SAPPHIRE Gin is made with a unique combination of hand-selected, 100% certified sustainably sourced botanicals from around the world. BOMBAY SAPPHIRE has an extraordinary smoothness and perfectly balanced taste. Inspiring the imagination of bartenders the world over, the aromatic flavors and crisp yet delicate finish create versatility unmatched by other gins. It can be savored in inventive long drinks or perfectly balanced martinis; in classic or contemporary cocktails.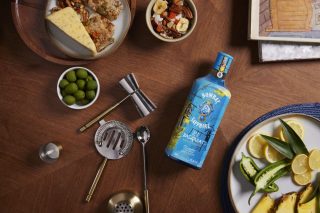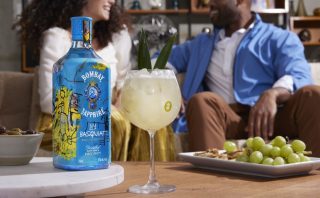 King Meets Queen
The Official Cocktail of Jean-Michel Basquiat: King Pleasure©
1.5 oz BOMBAY SAPPHIRE GIN
0.5 oz Reál Pineapple Puree
0.5 oz Lemon
0.5 oz honey syrup 1:1
5 oz Fever Tree Indian Tonic Water
Two Pineapple Top Leaves and one slice of Jalapeno.