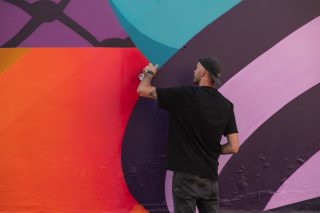 BOMBAY CREATE
A STIR
Bombay gives a creative platform to expressionists. Free-spirited and free-thinking, inspired by all that's new. Creative and decidedly not ordinary.
Bombay started working with eltipo few years ago. What began as a small first get together, became a brand x artist collaboration we could've only dreamed of.
Born in the 80's, graphic artist eltipo grew up in his father's car body shop where he first experimented and perfected his custom paint skills. ​
Since 2016 eltipo is an independent designer, artist and craftsman with a strong affection for letters, typography and illustration. ​
Eltipo has been a Bombay ambassador for several years and his creativity is seen all around Benelux with several paintings, artworks and of course the limited edition glassware.
DOWNLOAD YOUR EL TIPO WALLPAPER
Download your exclusive El Tipo wallpapers by pressing the images below.